Workshop Applied Molecular Ecology and Resilience of Forest Landscapes of Sabah.
In April 2016 I ran a two day workshop with Undergraduate, MSC, PhD students, and lectures from the University Malaysia Sabah. This was targetted at Forestry students but included students from Tropical Conservation biology and Biotechnology as well.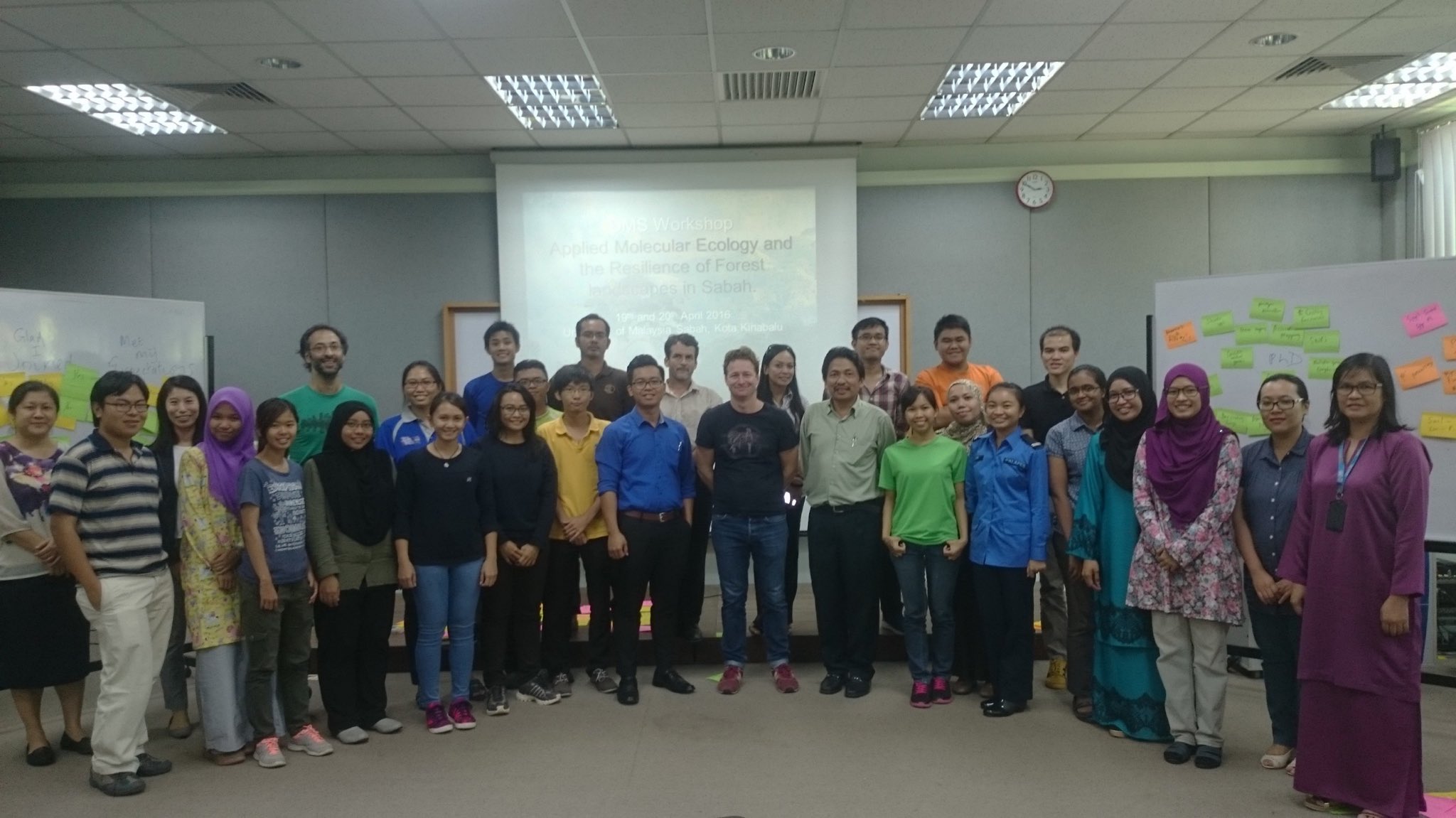 You can download the lecture slides here they are password protected for those who attended the workshop
Lecture 1 and 2 Applied Molecular Ecology and the Resilience of Forest landscapes in Sabah.
Lecture 3 Applied Molecular Ecology and the Resilience of Forest landscapes in Sabah.
Lecture 4 by Sascha Ismail Conservation Genetics of a Rare Dipterocarp Species
ETH Field Course – Tropical Forest Ecology see the Video made by the Students here
January 2015 saw the start of a new ETH field Course in Tropical Ecology — TropFor2015 — where 14 lucky MSc students from ETH, Zürich and one BSc from UMS spent 10 days exploring the challenges of developing resilient forest landscapes in Borneo. The students had the opportunity to meet with a range of local experts and discuss in great detail forest ecology, forest management, political and social aspects of forestry and wildlife conservation. This included senior scientists in the Sabah Forest Department, but also people active in the wildlife conservation sector and experts in Environmental Education in Sabah.
The Next Borneo Field course will be in early 2017.
ETH Bachelor Course – Rain Forest Ecology
Tropical rain forests contain most of the world's terrestrial biodiversity as well as immense carbon stores, and support the livelihoods of 1.5 billion people. This course addresses the ecology and management of tropical rain forests with a view to understanding the impact of land use change on their biodiversity, as well as food security, carbon storage, poverty alleviation and climate change.
ETH Master Course – Resilience of Ecological Systems
The objective of this course is to consider how to manage populations, communities, landscapes and socio-economic as well as institutional systems in order to provide maximum resistance and resilience. This includes systems ability to absorb, cope with and adapt to environmental change, be it discrete perturbations or more chronic change.